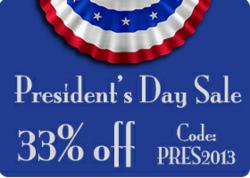 Castle Rock, CO (PRWEB) February 17, 2013
"It is always a chore to find that specialty store for your home furnishing needs. There is no need to look any further for your shade, shutter and blinds resource. Shades Shutters Blinds is having a site-wide sale for Presidents Day this year," explains Rose Marie who heads the marketing department. "Once you see our selection and the prices we offer, you will know that you have found a home away from home in this store."
Choices are always better than limitations and there is a lot to choose from at Shades Shutters Blinds. Their shades come in every style and convenience. They have cellular as well as motorized shades. Shutters come with options between faux wood for appearance sake and the real wood for integrity. Their blinds include the same types of alternatives.
For this Presidents Day, the entire collection is available for 33% off. To enhance the opportunities of this sale, Shades Shutters Blinds is also offering free samples of their products and free shipping on all actual orders. Enter the word PRES13 in the coupon box and you begin saving money immediately.
Shades Shutters Blinds has been offering excellent service in this industry since 2001. The business remains a leader not only because the products are quality but also because they provide exemplary customer service. Live sales assistants are standing by during normal operating hours. In addition, there are easy instructions available for download to help you install and maintain your shades, shutters and blinds after you make a secure online purchase. Sale ends soon.