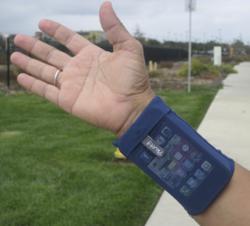 New York, NY (PRWEB) April 07, 2013
Nifty-Nifty.com, the leading online retailer of nifty, innovative products as seen on TV, is excited to announce that Phubby wrist cell phone holder is now available to shoppers in the UK, Australia, New Zealand, Europe, Dubai, Chile, France, Israel and just about anywhere, with a low shipping cost of just $ 5.00. The Phubby wrist cell phone holder, showcased on TV program was originally created by Ted Ross and is now available at Nifty-Nifty.
We have sold the Phubby, the wrist cubby wrist cell phone holder, for quite some time, explained Wendy Miller, co-owner of Nifty-Nifty.com.