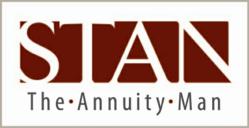 (PRWEB) May 09, 2013
Annuity expert, Stan The Annuity Man, has been invited to speak at the 2013 Las Vegas MoneyShow event May 13-16 at Caesars Palace. The MoneyShow brings top investment and trading experts together in one place for a one-of-a-kind networking opportunity that will share the tips, tricks and money making strategies of profitable investors. Stan will be joining other renowned financial gurus including Steve Forbes, Jim Stack, Peter Schiff, and more as they share their personal strategies for successfully navigating todays challenging market conditions.
I always look forward to speaking at the Las Vegas Money Show and speak about current annuity best practices, says Stan. As an annuity critic and the national consumer advocate for annuities, the Las Vegas Money Show provides a national platform for me to continue to educate the public on the proper use of annuities.
As a regular contributor for MoneyShow.com, Stan The Annuity Man provides ongoing content articles and educational videos detailing the complex world of annuities. Stan also contributes to MarketWatchs highly acclaimed RetireMentors program, LifeHealthPros Outside The Box blog column, and on Annuity123s Ask Stan The Annuity Man. Stan has spoken at every major financial trade show in the United States, and talks regularly as a radio guest on Smart Money with Hank Madden.
MoneyShow has been empowering individuals with a passion for investing for three decades. The four day Las Vegas MoneyShow event will provide in-depth knowledge about the financial markets, top-performing stocks and sectors, and specific ideas for profiting in these markets. Attendees can attend over 200 free workshops and special events where they will gain the perspectives and insights they will need for profit, get answers to their specific financial questions face-to-face, and discover cutting-edge investment opportunities.
Stan The Annuity Man has dedicated his life to educating the public on how annuities work and how they can possibly add value to a persons portfolio. The Stan The Annuity Man approach to finding the right annuity is better and clearer than investors have experienced elsewhere because Stan does something many other advisors dont — listen to what the client is trying to achieve, understand what they want to do with their money, and recognize what they want the money to do in return.. Representing more than 100 companies with an A rating or better, Stan puts the right annuity plan together based on the investors situation.
To contact Stan The Annuity Man about your financial email him at stan(at)stantheannuityman(dot)com or download the free iPhone/iPad app.
About Stan The Annuity Man

Stan The Annuity Man is a nationally recognized expert on annuities known for his transparency, honesty and endless research. He has spoken at every major financial trade show in the United States, and is rigorously independent, representing all major carriers that meet his uncompromisingly high standards. With a financial background that spans some of the major wirehouse organizations such as Dean Witter, Morgan Stanley, Paine Webber and UBS, Stan brings to his clients an informed clarity and insider wisdom that makes him extra careful and cognizant of risks and how to avoid them. Stan The Annuity Mans mission is to give each client his undivided personal attention and to become a trusted member of their Financial Team. With clients nationwide, Stan is known for his fly-to-your-home, coast-to-coast service no other annuity company provides. For more information visit http://www.stantheannuityman.com/