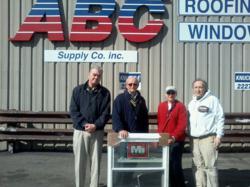 (PRWEB) May 13, 2013
An American war veteran and his wife have received a window donation from MI Windows and Doors, The Western New York Veterans Housing Coalition and the Veterans One-Stop Center of Western New York.
Mr. Michael Flessa is a highly decorated Marine Corps Corporal who served our country during the Vietnam War (1967-1969). His military honors include the Navy Achievement Medal with a combat V and a Purple Heart. Both Mr. Flessa and his wife are battling cancer.
Tom Bennett, an independent sales representative for ABC Supply in Buffalo, NY, is the Director of the Veterans One-Stop Center and Chairman of the WNY Veterans Housing Coalition. Both organizations devote their time to the assisting our veterans. Through both the WNY Coalition and the Center, we hear of all levels of need from individuals who have defended our country, Bennett stated. Mr. Flessas home was in need of some updates, so our organizations stepped up to the plate to help him out.
Bennett contacted Tim Gilliard, independent sales rep for MI Windows and Doors. Together they worked through ABC Supply to secure the four windows needed to update the Flessas home.
MIWDs donation will go a long way in helping Mr. and Mrs. Flessa complete the update on their home, stated Tom Bennett. Thank you again so much for your help and participation in this endeavor.
The Western New York Veterans Housing Coalitions mission is to provide housing, employment, and services to Veterans and other special needs populations. Started in 1987 by a group of Vietnam Veterans, the group's efforts have benefitted thousands. They presently manage four apartments buildings with 100 units of housing and have received numerous awards for leadership, management, and development. For more information on the WNYVHC, visit their website at http://www.wnyvhc.org.
The Veterans One-Stop Center of Western New York strives to provide all veterans and their families with barrier-free access to the services they need to deal with challenges at home during deployment, to complete the transition to civilian life, and to achieve their goals and full potential. The One-Stop Center brings people, organizations, and resources together in time, space, and effort to effectively improve the well-being of all Western New York Veterans of the U.S. Armed Forces and their families. For more information on the Veterans One-Stop Center or to donate, visit http://www.vocwny.org.
Founded in 1947, MI Windows and Doors manufactures energy efficient windows and patio doors and serves the new construction and replacement window industry. The company's character, integrity, and kindness, is exemplified by the people that represent it across the country.