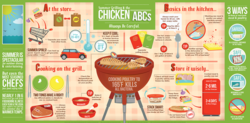 LIVINGSTON, Calif. (PRWEB) June 17, 2013
Foster Farms today released a new visual guide for food safety tips and techniques during summer grilling season. The U.S. Department of Agriculture reports that risk of foodborne illness increases during summer months as the weather warms (making food more susceptible to spoiling) and as more people cook and entertain outside.
The infographic depicts more than 20 simple steps that can make a big difference in improving safety from the store, to the kitchen, to the grill. Tips include keeping raw meat and poultry packages separate from other foods in the grocery cart and in your refrigerator; washing reusable shopping bags frequently; using designated color-coded cutting boards for meat, poultry and produce; and using different tongs and plates for raw and cooked meat and poultry.
As summer heats up, so do grills across the nation, said Ira Brill, Foster Farms Director of Communications. In addition to providing food safety tips on our packages and our website, we wanted to give consumers another resource that visually portrays how to safely store, prepare and handle raw meats. Our infographic provides beyond-the-basics tips guided by the ABC reminder to Always Be Careful, when preparing raw meat and poultry products.
The infographic is available at http://www.facebook.com/FosterFarms. A high resolution version is available upon request.
ABOUT FOSTER FARMS

Food safety is Foster Farms highest priority and the company reminds consumers to always follow safe handling, preparation and storage guidelines for the preparation of fresh poultry products. All fresh poultry products should be cooked to an internal temperature of 165