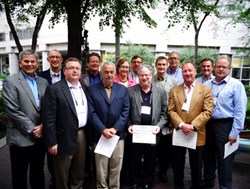 Gainesville, Fla. (PRWEB) October 15, 2013
As CPAmerica International celebrated 35 years of service, the association took some time to recognize long-time members at the annual Leading Partners Retreat. During the retreat, CPAmerica recognized 15 firms with 25-plus years of membership.
As we celebrate the association, it only makes sense to bring recognition to the firms that have helped shape the direction of the organization, said Alan Deichler, president of CPAmerica. We are a member-driven association and these longtime members are a symbol of those values.
The list of firms recognized includes the following:

Hunter Group CPA LLC 35 years

Nowlen, Holt & Miner, P.A. 35 years

McGowen, Hurst, Clark & Smith, P.C. 34 years

Contryman Associates, P.C. 34 years

Cummings, Keegan & Co., P.L.L.P. 33 years

Pulakos CPAs, P.C. 32 years

Mueller & Co, LLP 31 years

HBL CPAs, P.C. 29 years

Jannsen & Company, S.C. 28 years

Gray, Gray & Gray, LLP 28 years

Hagen, Kurth, Perman & Co., P.S. 27 years

SF&Company CPAs and Business Advisors 25 years

VonLehman & Company Inc. 25 years

Davenport, Marvin, Joyce & Co., L.L.P. 25 years

CF Accountants & Consultants 25 years
Members undergo a rigorous quality review for CPAmerica membership, only those firms with the highest standards in all practice areas are approved by members.
CPAmerica is an exclusive association of independent CPA firms across the United States. CPAmerica is a member of Crowe Horwath International, which has members in more than 650 offices in more than 100 countries around the world (http://www.crowehorwath.net).
About CPAmerica International:

CPAmerica International is an accounting association tied to the global community. Our firms are independent CPA firms who want to benefit from an international association. CPAmerica provides practice management support, continuing education, marketing, online services and other programs for the improvement of its member firms. As a member of Crowe Horwath International, the association has more than 650 offices worldwide, and combined firm revenues of the alliance approach $ 3 billion. Learn more about CPAmerica on the CPAmerica blog, LinkedIn and Twitter.