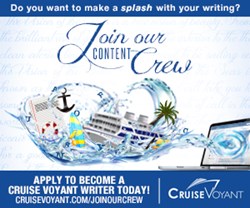 Fort Lauderdale, FL (PRWEB) October 30, 2013
Cruise travel website, Cruise Voyant is pleased to announce that they are still looking for talented cruise and travel experts to contribute to the Cruise Voyant blog. Receiving hundreds of applications within the first few days of opening the application, Cruise Voyant will be reviewing every application carefully to find cruise and travel experts that can contribute informative advice to help their consumers find the perfect cruise. Members that are hired to join the Cruise Voyant Content Crew will receive payment for written content and become a featured contributor to the site.
Were excited to see so many people interested in joining our content crew, Liz Becker, Cruise Voyant writer said. This is a great opportunity for cruise enthusiasts to write about their cruise experience and make money.
Requirements of the position include cruise experience, a strong writing ability and knowledge of cruises, ports and destinations. Cruise Voyant will also be making decisions based on writing samples provided by applicants. Content Crew members do not have to be professional writers in order to be considered. In fact, Cruise Voyant is seeking cruise lovers of any occupation that want to share their love of cruising as a Content Crew Member.
Benefits of being a member of the Cruise Voyant Content Crew include payment for written content, being featured on the Cruise Voyant blog and exclusive Crew Member discounts on cruises booked through Cruise Voyant.
Interested applicants are invited to apply on the Cruise Voyant website by visiting http://www.cruisevoyant.com/joinourcrew.