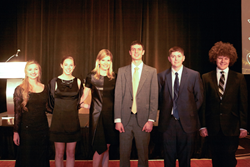 Westport, CT (PRWEB) June 25, 2014
The 2014 Youth Achievement Awards were presented at the Smart Kids with Learning Disabilities annual benefit on Friday, April 25, 2014 at the Hyatt Regency in Greenwich, Conn.
This year marks the 11th anniversary of the awards, named after Fred J. Epstein, the pioneering pediatric neurosurgeon who credited his significant learning disabilities as a major factor in his success, and became an inspiration to children with learning disabilities (LD).
The winner of this years award, Alexandra Sheridan, 17, of Marcellus, NY, serves as a Youth Ambassador for the United Nations as a representative of Dr. Jane Goodalls non-profit organization, Roots & Shoots. She has also achieved success as an experiential counselor and an award-winning artist, despite her struggles with dyslexia, ADHD, and dysgraphia.
I never thought in a million years Id be here with my disabilities, she told the audience.
Sheridan said that until she was in fifth grade, she had no handle on reading. But after transferring to a smaller school, and attending after-school learning programs, shes not only back on track, but taking AP classes in high school.
I could never be where I am today if it wasnt for my mother, said Sheridan. She is the only person who believed in me throughout my entire life.
Sheridan said that her mother encouraged her to pursue her passion when she showed an interest in subjects like anthropology that werent taught as part of the regular school curriculum.
I really think it was the support of my family that made me become the person I am, she said. Because without family, I dont think anybody with disabilities could really make it.
Smart Kids with LD received more than 200 applications for the annual competition, which is open to children aged 19 or younger with learning disabilities or ADHD who demonstrate talent and determination, resulting in a notable accomplishment in any field, including art, music, math, athletics, science or community service.
Other Youth Achievement Award winners agreed that the secret to success is to pursue your passion.
At the age of 13, Blake Resnick of Las Vegas, Nev., winner of the Junior Achievement Award, was inducted into the National Honor Society and was chosen to deliver the commencement speech. His proudest moment was winning the Southern Nevada Future City Competition for which he imagined, designed and built a city of the future.
When I was younger, I didnt have the faintest clue what any symbols on a page would mean, and I didnt really have any idea how to read or write, he said. Through extensive remediation, Ive improved to the point where I can pursue these advanced projects quite well.
Focus on your strengths and pursue them with all you have, agreed Brian Meersma of Princeton Junction, N.J., winner of the 2014 Special Recognition Award. At the same time, accept your disability and work on improving it and doing what you need.
Through his involvement with the nonprofit organization, Bookshare and driven by his passion for technology, Brian created a blog reviewing new technologies that assist people with disabilities. Brian was deeply involved with the campaign resulting in signing three dyslexic bills into law in New Jersey.
Two prominent elected officials, Connecticut Gov. Dannel Malloy and Sen. Richard Blumenthal (D-Conn.), spoke at the gala about the importance of supporting children with learning disabilities. Malloy also credited his mother for helping him to overcome his severe learning disabilities and physical impairments by concentrating on his strengths.
We should work with our children and do everything we can to make sure they get every level of academic success that they can achieve, but our most important job is to make sure our children love themselves, are capable of loving others, and are happy, said Malloy, an honorary board member of Smart Kids with LD.
In fact, Smart Kids with LD founder and executive director Jane Ross told the audience that research has demonstrated that the most important parental factor in children's success is parents' expectations. As parents, you need to gain the confidence that your child will be able to learn, that he will get on top of these issues, that he can succeed, she said. Smart Kids helps parents gain that confidence, through parents communicating this message: I have been on this journey before you, and it can be done.
***

About Smart Kids with Learning Disabilities, Inc.: Smart Kids with Learning Disabilities, Inc. is a Westport, CT-based nonprofit organization dedicated to empowering the parents of children with learning disabilities (LD) and attention deficit disorders (ADHD) via its educational programs, award-winning website and blog, and free e-newsletter at http://www.SmartKidswithLD.org. The organization also educates the public about these childrens gifts and talents. Henry Winkler, Golden Globe award-winning actor, director and author, serves as the organizations Honorary Chairman.
###